» Get the best federal news and ideas delivered right to your inbox. Sign up here.
Meanwhile, federal employees are bracing for President Trump's fiscal 2018 budget request, which is set to be released later this month. Details of the proposal are beginning to leak, and they don't paint a pretty picture, especially for domestic agencies, which would see their discretionary spending cut by about 10 percent. That is on top of a restoration of spending limits set by the 2011 Budget Control Act.
Cuts of the magnitude Trump is expected to propose would likely require layoffs or unpaid furloughs, as Eric Katz reported. A union representing Social Security Administration employees is getting pretty specific about what that might look like at SSA, Federal News Radio noted.  A warning on American Federation of Government Employees Council 220's website states that SSA has told the union it will need to furlough employees five days for every 1 percent cut in its administrative budget. According to the union's calculations:
If Trump succeeds in reducing non-defense discretionary spending by $54 billion equally to all non-defense agencies, SSA will have to furlough SSA employees for 8 weeks or 40 days. This would be an across the board pay cut of 15.4%.  In addition, SSA's ability to process the public's work would collapse.
The good news for employees, though, is that some agencies appear poised to push back against Trump's proposed cuts. Interior would face a 10 percent reduction under the White House's proposal, according to a report from E&E News. In his first address to employees, however, Interior Secretary Ryan Zinke told employees: "I'm not happy, but we're going to fight about it and I think I'm going to win at the end of the day."  
Also creeping up on Uncle Sam is the deadline for raising the debt limit, and once again, if lawmakers fail to act in time, the Treasury Department will need to take steps to avoid default. Among the potential extraordinary measures Treasury could take if Congress doesn't raise the limit by March 16, Federal News Radio reminds us, is suspending investments in the Thrift Savings Plan's government securities (G) fund.  This is hardly the first time G Fund investments have been suspended, and participants in the retirement savings program should rest assured the fund will be made whole again once the debt limit is increased.
Speaking of retirement, the backlog of pending retirement claims was up slightly at the end of February, according to the latest numbers from the Office of Personnel Management. This isn't too unusual. The inventory often grows at the beginning of a new year, peaking around February before beginning to decrease again through the rest of the year.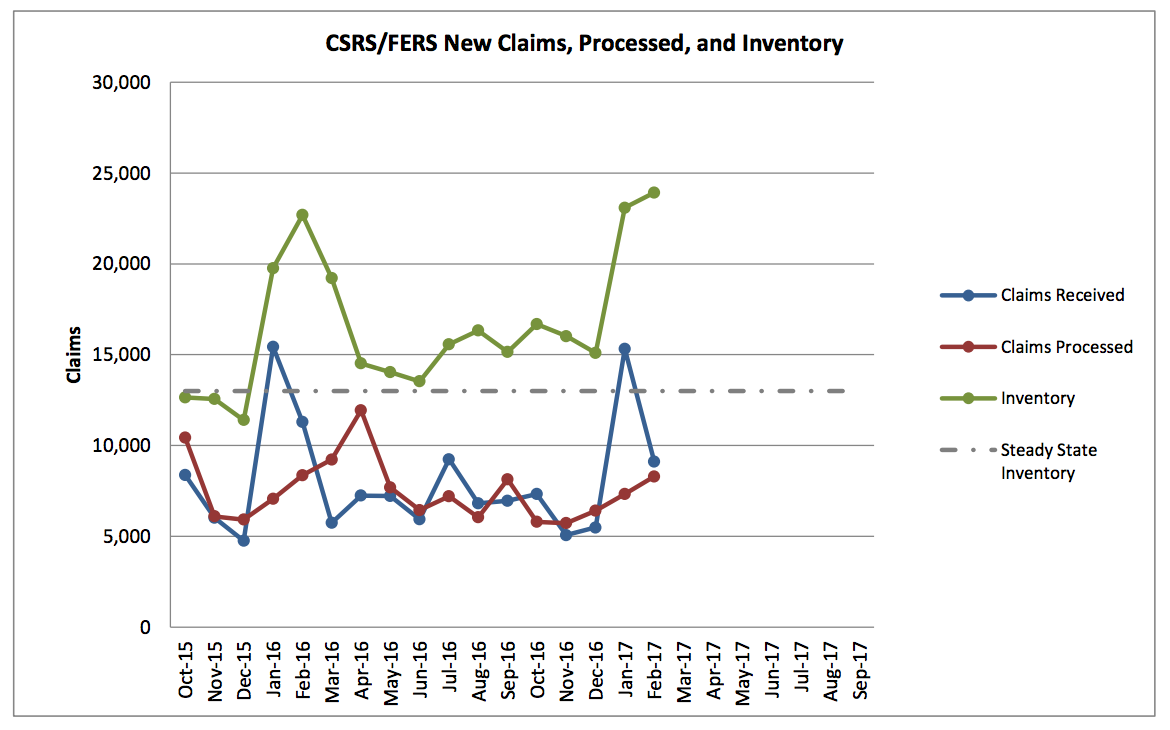 The backlog stood at 23,916 applications at the end of last month, an increase of 829 over 23,087 at the close of January. Even though the backlog is following its usual pattern of highs and lows, it was more than 1,000 applications above where it stood in February last year. In good news, 72 percent of claims were processed in 60 days or less last month, and for those processed within that timeframe, the average wait was 38 days.